Last year it was confirmed that Toyota would discontinue to the Avalon flagship sedan after the 2022 model year. If you were still hoping that Toyota offered something above the Camry in its lineup, then you'll be happy to see that there is a replacement – the 2023 Crown. This time though, the new flagship tries to combine attributes from both a sedan and SUV, since you know… buyers prefer SUVs over sedans now.
You may not be familiar with the Crown name, but it has been a staple for the Toyota brand since 1955. It was the first car from Japan to be sold in the United States in 1958. The last time it was sold in the US was 1972, so for most buyers the Crown name is new to them.
After 15 generations, Toyota says that this generation is a "Crown for a new era." This means that Toyota is taking it beyond just a flagship sedan by giving it a higher ride height to woo would be SUV buyers, although the shape is still pretty close to a sedan.
It features a raised hip point to make it easier to get in and out of and large wheels to add a bit more ground clearance than a typical sedan. It comes standard with 19-inch wheels, while larger 21-inch wheels are available. On the outside, Toyota gave the Crown more style than any of its other sedans with its sleek fastback-like roofline.
The Crown is based on Toyota's TGNA-K platform, which is used by several of the brand's cars and SUVs. It measures 194-inches long and it's almost four inches taller than the Camry.
As Toyota transitions to electrification, it's continuing to place an emphasis on hybrids. So for the Crown, it's only available with two hybrid powertrains. The standard setup is a 2.5-liter four-cylinder that's mated to two electric motors and a CVT. The more exciting option is the new Hybrid Max system that mates a turbocharged 2.4-liter four-cylinder to a front electric motor and six-speed automatic, while a second electric motor powers the rear wheels. The Hybrid Max system generates a combined 340 horsepower.
Toyota estimates that the standard hybrid powertrain will give the Crown a 38 mpg combined rating, while the Hybrid Max will be rated at 28 mpg.
Since the Crown is part SUV, there should be no surprise that it comes standard with all-wheel drive. Instead of a traditional transfer case, all-wheel drive is provided by employing an electric motor at the rear axle. The XLE and Limited trims come with E-Four AWD and the Platinum trim comes with E-Four Advanced. Up to 80 percent of the power can be sent to the rear wheels.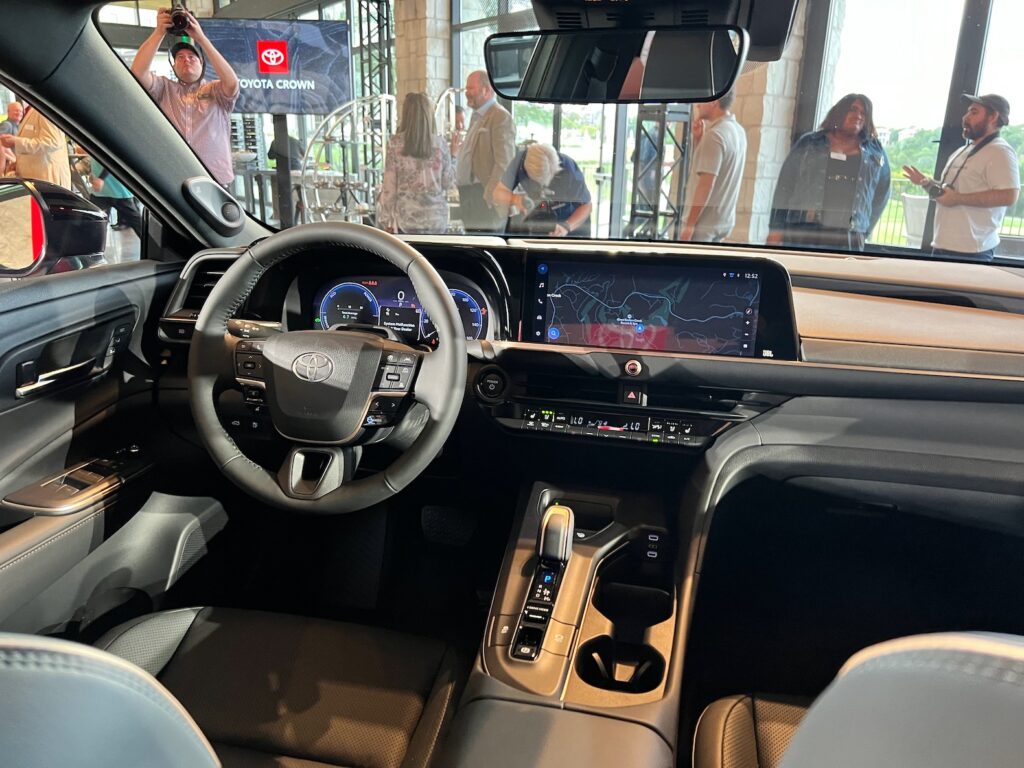 Continuing with the "premium" theme that we expect from the Crown, the Crown's interior is a first-class experience with plenty of space for all passengers and a quiet environment. At the front there are two 12.3-inch screens, one for the digital gauge cluster and the second for the infotainment system. The Limited and Platinum trims also add a panoramic moonroof.
The 2023 Crown comes standard with Toyota Safety Sense 3.0, which includes enhancements to its system sensors to provide improved detection capability. The Pre-Collision System with Pedestrian Detection can detect motorcyclists and guardrails. When making a turn or approaching an intersection, the system is designed to detect approaching vehicles and warn about a possible collision. 
It comes standard with adaptive cruise control, lane departure alert with steering assist, lane tracing assist, automatic high beams, blind spot monitoring, rear cross traffic alert and a rear seat reminder system.
The Platinum trim also adds the Advanced Park System, which uses sensors to identify an open parking space and park itself in either parallel or perpendicular spots.
At the end of the day, the new Crown is out to change your expectations of a family sedan. Will it be able to dodge the stigma that plague more sedans? We'll see.
Toyota hasn't announced the pricing for the new Crown, but the 2023 Toyota Crown will arrive later this year.