Shopping for a new fun car?  There are more excellent options than ever, but narrowing it down between muscle cars and sports cars can get confusing. Rather than some company website trying to sell you their car, this quick comparison offers an unbiased look at the pros and cons of each.
Clarification
First up, before we can compare and contrast, we need some set definitions.  Internet arguments abound over what makes a true muscle car or sports car, but looking at the classics provides some strong hints.
Muscle cars were traditionally big engines stuffed into intermediate sized cars, with an emphasis on affordable fun in a straight line.  These were regular production cars like the Malibu or Galaxie that their respective makes threw mountains of horsepower at until it created a muscle car.
Today, muscle cars are a little different, and that's mostly a good thing.  Big block V8s are gone, but modern small blocks have far more horsepower than even the most powerful classic muscle car.  Modern muscle can also go around corners at speed, and stop with the best of modern performance cars.  That's a lot of performance, starting under $25,000.
On the other hand, traditional sports cars were tiny flyweight roadsters with small high revving engines.  Power wasn't necessarily important, as the light weight meant even 100 hp could be fun.  Rather than being built for drag racing, sports cars delivered the best driving experience on twisty backcountry roads, where the handling, steering, and braking quality can shine.  It's not about getting there quickly, but enjoying the experience.
Modern sports cars try to replicate the formula of classic sports cars, and they more or less succeed.  Just like every other class of car, weight has gone up in modern sports cars, so chassis and suspension tuning are more important than ever to deliver that lively performance character.  Horsepower is up as well, so most of the modern sports cars will spank their older grandparents.  This is all especially impressive for the cash, as you can get into a real sports car for under $25k.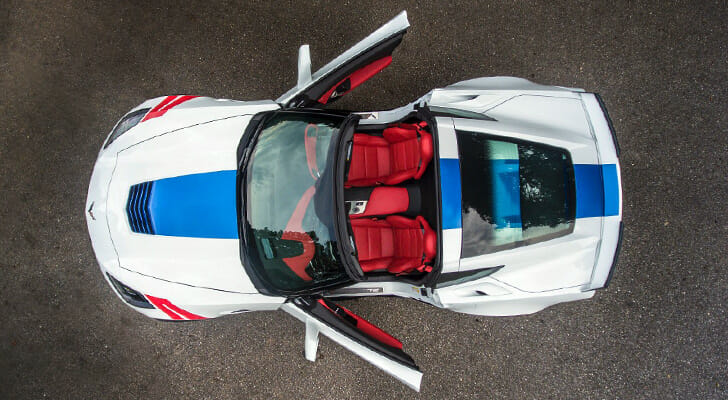 Gray areas
You might have noticed that both segments are beginning to blend.  Sports cars have become heavier, and muscle has learned how to take corners.  Generally though, there are still set boundaries on the traditional cars.  The Dodge Charger and Chevy SS are entirely modern muscle, whereas the Ford Mustang and Chevy Camaro are more of a pony car blend.  The traditional pony cars pumped iron over the decades and moved into the muscle car space, left after the disastrous 1970s that almost erased factory performance cars.  Now the Mustang, Camaro, and Challenger are all considered muscle, even if traditionally they aren't.
It's similar for the sports cars.  The Mazda Miata MX5 and Chevy Corvette are true sports cars in every sense of the term.  However, the high-end Z06 steps into supercar territory, and modern sport sedans proudly proclaim in their advertising that they are four door sports cars, which does nothing but muddy the definition.  Hot hatches like the Fiesta ST turn light econo-boxes into serious contenders at autocross or on the street.  So for this discussion, we'll stick with the clearly defined.
Advantages
Muscle cars are still great at what they do best, massive acceleration in a straight line.  There's other bonuses here over a sports car though.  That larger design allows more interior room for passenger comfort, and more junk in the truck.  Modern V8s sound different than old school muscle, but many of them still sound great. Finally, some buyers like being surrounded by more sheet metal, believing all that mass is safer in a crash.
Today's sports cars are as engaging and enjoyable to drive as their old counterparts, but offer better gas mileage and vastly improved reliability.  Modern suspensions can soak up bumps, while offering road holding previously only available on racecars.  Many sports car drivers think they have the safest vehicles on the road, as with superior steering, handling, and braking, they feel they can avoid an accident.
Disadvantages
Ever sat in a 5th generation Camaro?  While the power is nice, the visibility, especially to the rear, is legendarily terrible.  This is a common drawback on most new muscle cars, especially the coupes.  Other drawbacks are associated with that large displacement V8.  While awesome, it also eats gas like Tony Montana goes through coke.  That big thumping engine sounds great, but to use it at full potential means a track or a very abandoned road. In other words, you're driving a 1% car in a 100% world.  That means tickets.
Sports cars have serious drawbacks too.  Mainly, most people find two seats to be anywhere from slightly annoying to a crippling deal breaker.  Seriously look at your lifestyle before putting up cash for a two seater.  Sports cars usually have a small trunk, and high insurance rates.  They are also low to the ground, for a lower center of gravity, which means the slightest inclement weather will force you to stay home.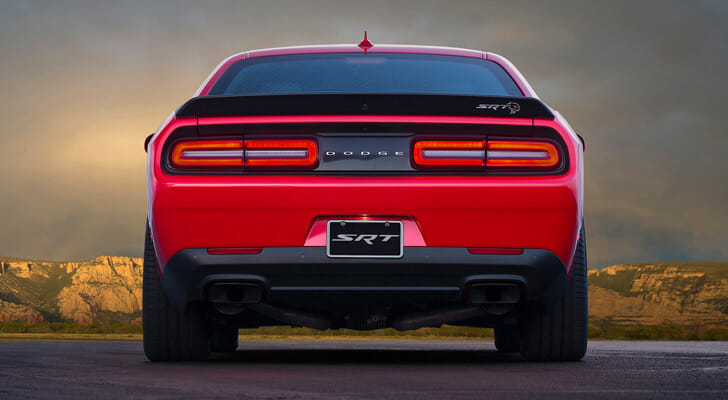 Good examples of the breed
The current muscle car king is the Dodge Charger Hellcat.  With a supercharged 6.2 liter Hemi V8 packing an insane 707 horsepower, this muscle sedan can slay several supercars.  What is even more unbelievable than the power, is the price.  Mid-$60k will get you behind the wheel of this rocket, complete with one of the best warranties in the industry.  That kind of performance sedan from Germany would cost at least three times as much.  The Hellcat is over the top and ridiculous, but with its affordable performance angle, it is a classic muscle car, but better.
On the other side, the Mazda Miata is the benchmark every competitor tries to best when they produce a sports car.  The S2000 was pegged to it, and exceeded the Miata in power, but also cost.  The Pontiac Solstice and Saturn Sky also went one-to-one with the Miata, and more or less succeeded before succumbing to the Carpocalypse of 2009.  The new 2016 Miata looks as great as ever, and while the hp is an unimpressive 155, the entire thing weighs under 2,400 lbs, and is so damn enjoyable to drive you'll forget all about numbers and just savor the moment.
Who are you?
Despite the similar price point, muscle cars and sports cars offer vastly different driving experiences.  Thinking about how you like to drive, where you drive, and what features are important to you, should narrow down your choices.  Made a decision?