The sixth generation Chevrolet Camaro, unveiled in 2017, is one of the meanest machines in the performance car world. Its ZL1 LE comes with an Extreme Track Package, making it more ideal for the race track than one you'll A to B around town. The ZL1 1LE costs just shy of $70,000, which may sound a bit expensive compared to other performance cars. However, if you consider the features and performance that you get with it, then you can make a case for the 2018 Chevrolet Camaro ZL1 1LE actually being a good value.
For starters, General Motors has introduced a fully carbon fiber rear wing, reminiscent of Chevrolet's Corvette Racing program. Also, the car's nose comes with a larger grill openings and huge dive planes. The reworked front end along with the racing derived aero bits give this model a down force of 300 pounds at 150 mph. GM's 100-hour wind tunnel and on-track testing program paid dividends with the ZL1's impressive aerodynamics.
With a supercharged 6.2L LT4 V8 engine rated at 650 hp (485 kW), few will call the 1LE under-powered. The one two punch of active aerodynamics and enormous power propel this muscle car to 60 mph in only 3.5 seconds in the manual transmission. Moving ahead, it runs the quarter mile in 11.4 seconds at 127 mph, while braking from 60 mph happens in 107 feet. For reference, anything within 100 feet is considered safe & secure. Only die-hard enthusiasts will reach for the ZL1 1LE trim. One indication is that this bad boy only comes with a crisp shifting manual six-speed transmission. So no need to lock your doors as the majority of today's thieves can't drive it.
A common belief is that fast high-powered cars are too wild to control. For all its racy numbers, the Camaro ZL1 1LE's handling capability starts with the lightweight, rigid structure married with specially calibrated Magnetic Ride suspension and an advanced electronic limited-slip differential. In other words, you don't have to be a campion race car driver to keep the ZL1 out of the ditch.
Another striking addition to the 1LE is the lightweight aluminum wheels. At 19 x 11-inch front and 19 x 12-inch rear, they are an inch smaller in diameter but an inch wider than the standard Camaro. Goodyear's Eagle F1 Supercar R3 are also the widest tires that Chevy has ever fitted the Camaro with. These feature an exclusive compound and construction that offer a maximum lateral grip of 1.10g. The lighter wheels and dampers, along with thinner rear glass and a fixed-back rear seat for the 1LE contribute to an approximately 60 lb lower curb weight (3820 lb) than a standard ZL1 Coupe. Surprisingly the tires are the only rubber component in the car; there are no rubber bushings in the suspension.
Beyond the performance, enthusiasts want customization. This is something that the Chevrolet Camaro ZL1 1LE offers plenty of. Starting with the racing-derived, lightweight Multimatic DSSV (Dynamic Suspension Spool Valve) dampers front and rear that is easily adjustable and offer exceptional wheel and vehicle control. The adjustable suspension are straight out of every Formula 1 racing. It also comes equipped with beefy Brembo brakes with six-piston monoblock front calipers – featuring the ZL1 logo – and massive, 15.35-inch (390 mm) two-piece front rotors. Although using carbon brakes would have reduced the weight further, Chevy opted to save on the cost as carbon brakes due to their high cost. The cost savings is then passed down in the final pricing.
Additionally, the car's front-end height can be adjusted over a range of 18 mm and can considerably change the look and feel of the car. You can also adjust the camber up to minus three degrees and with the option of three rear anti-roll bar settings. These various adjustments allow you to fine tune the car according to your daily driving preferences or track day needs.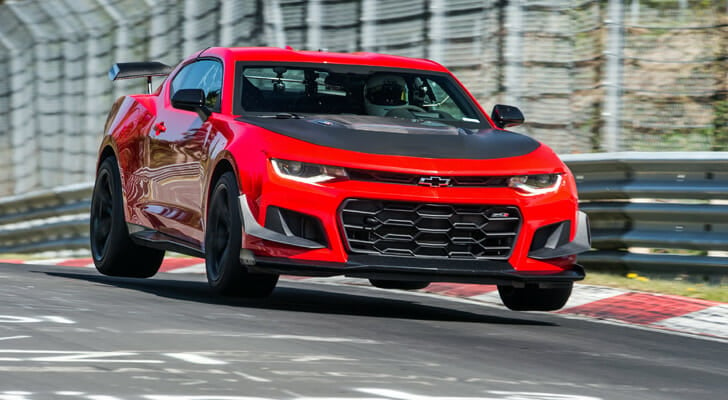 As soon as you step inside the car, you time travel a few years ahead. The cabin is loaded with plenty futuristic and snazzy tech. The highly adjustable Recaro driver's seat and steering column allow drivers of all sizes and shapes to fit comfortably. The rear seats on the other hand are minimalist in design and made for weight savings rather than comfort. The front seats are where you want to be in this car, especially if you are tall enough to ride a roller coaster. The 8-inch Chevrolet MyLink display is compatible with both Android Auto and Apple CarPlay, but you're more likely to be impressed by its four display options including lateral G-force. Further, the Bose premium audio system, heated/ventilated front seats and heated steering wheel come standard (and should at this price bracket). If you shell out an additional $1,300, you can also get a Performance Data Recorder system that keeps track of your real-time performance of the lap times. Even cooler, you can study your video recordings and GPS data to improve your track skills or easily share the results with your friends on social media.
Some more high tech options are offered as standard on the safety front which include Rear Vision camera, Rear Park Assist, Rear Cross-Traffic Alert and Side Blind Zone Alert with Lane Change Alert. A StabiliTrak electronic stability control system and Bosch's state of the art anti-lock braking system are optional up charges. Standard air bags include dual-stage frontal, thorax side-impact and knee air bags for the driver and front passenger and the head curtain side-impact air bags for the ZL1 1LE.
For a Camaro, the ZL1 1LE has a stratospheric price tag. But you need to look at this as much more than "just a Camaro". This car proves that GM doesn't give two sh*ts about having one of their Camaros upstage some of their esteemed Corvette models. As you dive into what the 2018 Chevrolet Camaro ZL1 1LE offers, it doesn't take much to see that this modern muscle car is a good value for the money. To get similar performance from a European rival in the segment will set you back two to three times the ZL1 1LE. So perhaps it's not an outright bargain at 70 large, but still one helluva car and a good performance value.