Supercars are awesome, and everyone thinks they are great. Hypercars are even better, and everyone thinks they're also great. But what about megacars? With automakers debuting ever new technologies and approaches, the ever-increasing horsepower wars have escalated in the last 20 years to somewhere ridiculous where we have to create new names to quantify them.
While there have been a couple of uber-powerful megacar contenders like the Hennessy Venom GT and the SSC Ultimate Aero, they never seem to build in any serious quantity, making them ineligible for the title of World's Fastest Production Car. Now, there's two potential contenders that look to have the serious power, and solid production history to make a real shot at dethroning the reigning king of speed, the 1,200 horsepower Bugatti Veyron Super Sport. First, we'll introduce the sensible choice as the future fastest car on Earth.
Chiron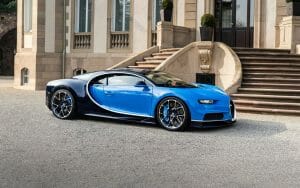 We've seen this car before. Despite huge news of the imminent Veyron successor, the Chiron quickly faded from the auto news cycle due to its looks. We had seen a working prototype a year earlier called the Bugatti Vision Gran Turismo. Unlike most manufacturers that went with a wild approach to the GT challenge, the small Bugatti team built a fully functioning car with realistic production potential. The Chiron is a finalized version of their Vision GT, with very similar looks. Still, since Bugatti launched the Chiron officially at the 2016 Geneva auto show, they are understandably pretty excited about it, and we'll take a fresh look at it.
The Chiron's similar look reflects the refined approach Bugatti used on this new megacar. On initial glance, it looks like a second generation Veyron, with similar front end treatments and C-shaped side scoops. The heritage cues are intentional. Paraphrasing their website, the Chiron is the result of Bugatti's desire to "make the best even better." The Veyron took the title of World's Fastest Car, so they were doing something right, and are trying to carry it forward another ten years. From the horseshoe grille to the unusual profile, it's all Bugatti.
Power, is similarly an evolutionary process with the VW owned French company. Like the Veyron, the Chiron uses a large displacement aluminum DOHC sixteen cylinder engine mid-mounted in a carbon fiber filled wonder chassis. While the C-shape seen on each side of the Veyron was approximately door sized, the Chiron has more air demands due to a dramatically higher output. The massive scoops feed air into an unknown amount of radiators. The rear sports a slick bar taillight design and airflow-friendly open rear. Power is transferred to all four wheels to crush GTRs on launch,
Stats
Horsepower: 1500
Torque: 1180 lb/ft
Weight: "less than a Veyron," so anything under 4100 lbs
0 to 60 mph: "less than 2.5 seconds"
Top Speed: 261 mph, electronically limited for safety
Engine: 8.0L W16 with four turbos
Transmission: 7-speed dual clutch
Projected build quantity: 500
Regra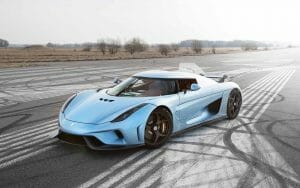 Hmmmm. Seems like we've seen this design before too. Koenigsegg has been making cars for about 20 years, and all their designs have a similar feel. Even going back to the late '90s, you can see their different approach in the profile. While most manufacturers of performance cars of the time went for a sharp wedge nose (think C5 Z06 or Ford GT), the boutique Swedish brand went for a more blocky look, focusing the aero on high-speed downforce. Brute force horsepower makes their cars fast, and the downforce keeps it rubber-side down. If there's a sticker on the back of Christian von Koenigsegg's daily driver, it's Calvin pissing on a drag coefficient. Still, it's a look that works, as Koenigsegg has no shortage of buyers.
Even though Mr. Koenigsegg has publicly stated his distaste for hybrid systems, the newest car bearing his name is a hybrid. Of course, their PR fluff states it has a direct drive system, and sure, it is a new layout, but it's a hybrid with the difference in the details. Unlike parallel (Toyota Prius) or series (Chevy Volt) hybrids, the engine is directly connected to the rear axle and can use the electric motors for increased power, or rolling quietly in a pure EV mode. Because polar bears and all that. Other details are pretty sweet too. The headlights are a scattering of LEDs thrown seemingly at random into the dark carbon fiber headlight housing, giving a star effect. Pretty sweet. While the front is familiar to Koenigsegg fans, the roof is raked towards the rear, with a dramatic "pull" in to the center, making the cabin sweep into the engine bay housing/cooling ducting and rear automated wing.
The engine is as nuts as the rest of the stats. It's an aluminum DOHC 5.0L V8, but this isn't the Coyote in your Mustang GT. This five-oh has 220 hp per liter on pump gas. On E85 it's make more. The three electric motors make a combined 500kW, which translates to about 700 hp. That power potential is brief, as the motors don't have an endless battery to draw from. Still the results are crushing, as the Regera is claimed to run 0 to 249 mph in 20 seconds. Yes, you read that right. That's what happens when you build a car with the weight of the sixth generation Camaro, loaded with more than three times the power.
Stats
Horsepower: "more than 1500"
Torque: over 1600 lb/ft
Weight: 3500 lbs
0 to 60 mph: 2.8 seconds
Top Speed: 249 mph
Engine: 5.0L V8 twin turbo, plus 3 electric motors
Transmission: 1-speed direct drive
Projected build quantity: 80
Fight!
The different approaches lend themselves to different strengths and weaknesses. The Chiron, with all-wheel drive, will likely destroy pretty much anything off the line if driven aggressively from a standing stop. You can see this in the sub-2.5 seconds to 60 time it records, leaving those infamous P85D drivers in the dust. While rear-wheel drive is fun, AWD is a killer from a dig, so stoplight battles will likely go to the Chiron owners.
However, weight is a factor too. The Chiron is lighter than the Veyron, but it's going to have to lose 600 lbs in order to meet the Regera in the mid-3500 lb range. Plus, while the dual-clutch is impossibly fast, a direct drive with electronic torque fill is faster, meaning after sixty, things are going to get interesting if you don't blink. Every time the Chiron pulls a millisecond shift, it starts losing ground. As the Regera dumps a half megawatt of electricity to the electric motors – and especially on E-85 – Chiron owners look at the dubious task of chasing down a 1500+ hp Regera.
The Regera has a better power-to-weight ratio than the Chiron, and can apply more power at any given moment, as long as the rear tires can hang on. That's less of an issue above 200, where both of these cars can easily play. However, the Regera is designed with a limitation: software will prevent you from exceeding 400 km/h (249 mph). This means a Saturn V rocket-like acceleration blasting you into orbit in 20 seconds, where the Chiron slowly catches up and eases by on its way to another 12 mph faster top speed.
Bugatti has a goal clearly outlined on the Chiron's website, calling it "the world's most powerful, fastest, most luxurious and most exclusive production super sports car." Well, someone forgot to tell Bugatti about the Swedes.