The eye-catching Lexus LC provides supercar looks and performance for a price well under many competitors. The LC comes in coupe or roadster form and compares with the Mercedes-Benz SL and Jaguar F-Type. It's a stunning style statement with impressive grand-touring performance, though practicality takes a back seat to its racy looks. For 2023, Lexus promises that a handful of suspension revisions will make the LC even better to drive for the new year. An optional performance package gains a limited-slip differential and uprated brakes, too.
Few new vehicles pack the visual punch of the Lexus LC. It's as elegant as ever, even if this basic design has been around for a few years now. The LC still looks like a show car, in part because it channels the outrageous LFA supercar from a few years back. It's spectacular. Sure, the spindle grille up front won't be for everyone, but there's no denying how the LC's voluptuous lines and its  angular details work in remarkable harmony. Roadsters are pretty with their tops down, but a bit fussy with them up.
Poised, powerful, and polished, the 2023 Lexus LC is a delight to drive. The 2023 Lexus LC combines grand touring comfort with deft responses, thrilling acceleration, and a phenomenal sense of overall composure. All Lexus LC coupes are rear-wheel drive. The LC 500—both coupe and droptop versions—goes plenty quick thanks to its 471-hp 5.0-liter V-8. The 10-speed automatic fires through gears quickly, though you'll want to grab the optional limited-slip rear differential for optimum grip even from a standing stop. Grab the available sport exhaust and the LC 500's V-8 really snarls its way to 60 mph in about 4.4 seconds.
[See image gallery at www.thetorquereport.com]
The LC 500h pairs a 3.5-liter V-6 with an electric motor and a battery pack for a net output of 354 hp. Performance is remarkably linear thanks to the trick CVT and 4-speed automatic gearbox that mesh together for almost EV-grade smoothness. Even with all that heft to lug around, the LC feels fleet of foot. It's balanced, with terrific steering feel for slicing down a winding road. Even on a track, the LC can delight. We're less enamored with the available rear-wheel steering system. It does its job, but it's so expensive.
The LC 500h is a low-guilt sports car, but it can be spectacular. The LC 500h is rated at an impressive 26 mpg city, 34 highway, 29 combined. The LC 500, however, is a guzzler. It's rated at 16/25/19 mpg as a coupe, or 15/25/18 mpg as a droptop, which isn't available as a hybrid. The 2023 Lexus LC has not been crash-tested. We can't say for certain how safe the LC is since neither the NHTSA nor the IIHS has committed the grave sin of mashing up this pretty coupe. Standard equipment includes automatic emergency braking, adaptive cruise control, lane-departure warnings, and blind-spot monitors, while a head-up display and an automatic parking system are optional. What you won't find is any of the hands-off trickery seen in some fresher rivals.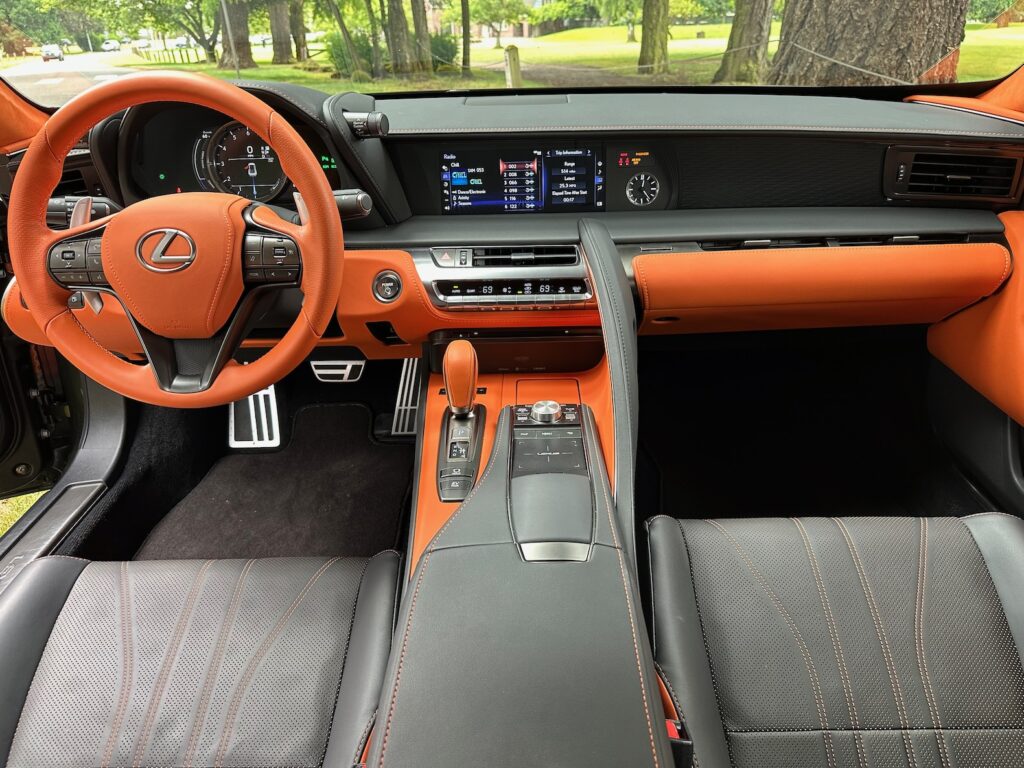 The LC is a stunner inside, too. The dash controls are oriented toward the driver, with a wide display standing front and center. Particularly nice is the fact that just about every panel can be wrapped in beautiful semi-aniline leather. Upholster ours in Toasted Caramel, please. Practicality takes a (cramped) back seat in the Lexus LC. The 2023 Lexus LC is gorgeous inside, but it's certainly not spacious. Materials and fit and finish are easily in line with this car's hefty pricing.
The front seats offer all-day comfort and plenty of power adjustment. The rear seats have seat belts, but they're really meant for small-item storage. And those items had better be small and malleable since access to row two is a challenge. The trunk's five-cubic-foot capacity is enough for a carry-on suitcase, which makes it small even by sporty coupe standards.
Lexus fits ample equipment to the LC, but it's not as lavish as some competitors. The 2023 Lexus LC includes everything we'd expect of a vehicle that starts at around $5,000. You'll find leather upholstery, seats with a wide range of adjustment, a 10.3-inch touchscreen, Apple CarPlay, Android Auto, Amazon Alexa, and plenty of driver-assistance features. There's even a 4-year/50,000-mile warranty with two years of free maintenance. Its options list is modest for a high-end model, though. Coupe or convertible? Droptops come only in LC 500 spec and starts at $106,350.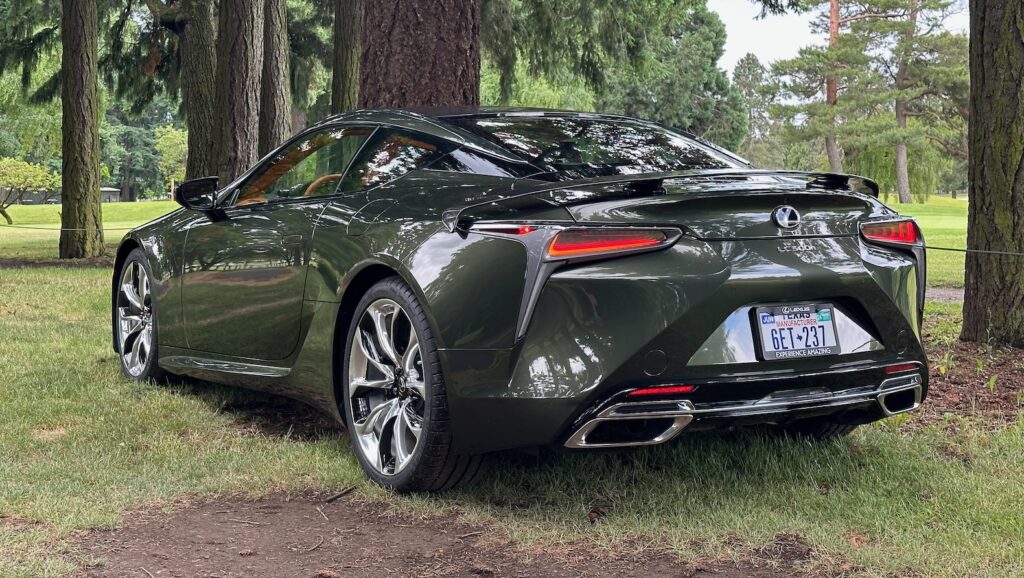 Either way, we'd stick with the base car and add prettier paint plus the $5,010 Sport Package that includes synthetic suede inserts for the seats, a Torsen limited-slip rear differential, automated parking, 21-inch wheels, and uprated brakes. Figure just under six figures for a coupe and a few grand more for a convertible. An LC 500h with rear-wheel steering, Mark Levinson audio, and a few other bits will push $115,000. You can spend more with Lexus' Bespoke option that offers a slightly higher degree of mix-and-match customizability.
The 2023 Lexus LC gets one our highest recommendations for being a sublime vehicle in every regard, a true world-class GT. If you're in the market for a luxury GT, then look no further than the Lexus LC since it does everything well. On top of offering stunning styling and adrenaline inducing performance, it also offers one quality other rivals can't match; the Lexus experience and unbeatable reliability.
The post 2023 Lexus LC Review: A Sublime Grand Tourer appeared first on The Torque Report.