The Winter in Arizona has been a good one. I can't think of a better week to test drive the 2022 Toyota Tundra Capstone than going from the rainy desert to the snowy mountains of the North and everything in between.
The 2022 Toyota Tundra Capstone is a special edition of the Tundra full-size pickup truck. It is equipped with a powerful 5.7-liter V8 engine that delivers 381 horsepower and 401 lb-ft of torque. It comes standard with a six-speed automatic transmission, and four-wheel drive is optional.
Driver Experience:
The ride is really smooth overall for a truck. We really got to experience driving this vehicle in some very bad conditions. It was almost a white out driving up and back down the mountain from Snowbowl Ski Resort. The highway was torn up from the plows so a lot of uneven pavement and hazardous road conditions. There are a lot of comforts in the interior, especially the large seats and spacious cockpit but this is still at it's heart a trustworthy truck that can handle all kinds of conditions.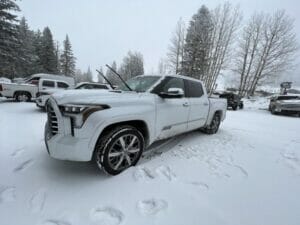 Exterior Styling: 
The 2022 Toyota Tundra Capstone has a rugged and aggressive exterior design that's perfect for off-road adventures. It comes with a unique grille design, LED headlights and taillights, and special badging that sets it apart from the standard Tundra. The Capstone also features black wheels and trim accents, as well as a TRD skid plate and Fox suspension system for improved off-road performance.
Interior Features: 
Inside, the Tundra Capstone is well-equipped with a range of features designed to enhance comfort and convenience. It comes with heated and ventilated front seats, a JBL premium audio system, and a 12.3-inch touchscreen display for the infotainment system. Other notable features include a wireless charging pad, dual-zone automatic climate control, and a power moonroof. The Semi-aniline leather-trimmed 10-way power-adjustable front seats and Two-tone white-and-black interior with dark American walnut wood-grain trim give the Capstone a Luxurious look and feel for the interior. You almost forget you are in a truck. There is plenty of space and places to put whatever you need for the road.
This is a rugged truck with a lot of luxury. It's almost like if Mercedes Benz designed a truck. There is a lot to love with the Capstone trim of the 2022 Toyota Tundra.
Engine and Transmission: 
The Tundra Capstone is powered by a 5.7-liter V8 engine that delivers 381 horsepower and 401 lb-ft of torque. This engine is paired with a six-speed automatic transmission and a four-wheel drive system, giving the Capstone plenty of power and traction for off-road driving. Additionally, the Tundra Capstone comes with a tow/haul mode for improved towing performance. This truck has the ability to save gas and be economical and give you a lot of power when you need it.
Toyota Safety Sense 2.5: 
The Capstone comes with a range of advanced safety features, including adaptive cruise control, lane departure warning, and automatic emergency braking.
Capstone Features:
Some of the key features of the Tundra Capstone include:
Fox shocks: The Tundra Capstone comes equipped with Fox shocks that have been specifically tuned for this truck. These shocks provide improved off-road performance and a smoother ride on rough terrain.
TRD skid plate: A TRD skid plate protects the underside of the truck from damage when driving over rocks and other obstacles.
18-inch wheels: The Tundra Capstone rides on 18-inch wheels with all-terrain tires, giving it excellent grip in off-road conditions.
Special badging: The Tundra Capstone features special badging on the exterior and interior, letting everyone know that this is a limited edition truck.
Conclusion
Overall, the 2022 Toyota Tundra Capstone is a well-rounded and capable pickup truck, with impressive performance, off-road capabilities, and a comfortable and feature-packed interior. The Tundra Capstone MSRP starts at $74,230.